Best practises
Nursing home Koper
Achieving energy efficiency in a simple, quick and cost-competitive way.
With the help of its own controllers and advanced software solutions, AMIBIT Energy Information System enabled the Nursing Home Koper to optimize, automate and control existing energy devices, as well as to report on energy consumption in real time.
Users's segment
Nursing homes
Founder
The Republic of Slovenia
Year
1980
Surface
6,745 m2
Floors
Basement + ground floor + 3
No. of employees
approx. 140
No. of elderly
179
Services

Accommodation,
Social care,
Physiotherapy,
Occupational therapy,
Health care,
Nursing care,
Day care
Social care at home,
Preparing lunch,
Washing and ironing clothes,
Distant care
1
A challenge
Nursing home Koper striving to improve energy efficiency.
Carrying out its mission, the Nursing Home Koper follows the guidelines of the program for the development of care for the elderly which are achieved by constant development of content and services, by meeting the needs and desires of users and employees, and by improving the standard of living. This is followed by the renovation of the infrastructure, which will offer the highest possible level of living comfort and cost-effective management of the Home. This also includes care for the efficient use of energy, control and optimization of the operation of the energy system, and concern for the environment.
FACTORS
Gradual and partial renovations of existing heating and cooling technologies.
Gradual, yet uncoordinated connection of new devices such as air conditioners.
Introduction of new services for external users.
CONSEQUENCES
Uneven energy consumption.
Non-optimized operation of connected devices in the boiler room for the needs of home heating and sanitary water.
Very high electricity consumption at peak hours (the time of the preparation of meals in the kitchen and laundry in the laundry room).
2
Preliminary analysis
Increasing costs due to inefficient energy use reminded of necessary infrastructure renovation.
Preliminary results of the energy infrastructure analysis have clearly shown some key issues:
The unused potential for heat generation from the newer water-water heat pump has been demonstrated.
Viessmann oil burner and old Wamak heat pump did not communicate properly with each other. Therefore, the protocols for their regulation for particular programmes such as peak coverage, legionella programme, etc. didn't work optimally.
The analysis showed the occurrence of power consumption peaks at new Wamak water-water heat pump when operating simultaneously with high laundry and kitchen consumption.
Boiler room of the Nursing Home Koper includes the following devices
| Device | No. of devices | Rated power (kW) |
| --- | --- | --- |
| Wamak heat pump water-water (new) | 2 | 93,46 |
| Wamak heat pump air-water (old) | 2 | 2×93,46 and 99 |
| Viessmann oil burner | 2 | 200 |
Reasons for energy renovation
Increasing energy costs
Energy inefficiency
Stricter national regulation in the energy efficiency field
3
Solution
Implementation of advanced amibit technology with no additional construction works
Amibit equipped the home with advanced technology in the field of energy management in 5 phases:
Installation of amihub controllers for consumer monitoring in real time.
Establishment of amibit automated system for energy management.
Introduction of amibit system for managing the peak power of electricity.
Introduction of amibit system for managing the peak power of electricity.
Training of clients for using other eis functionalities.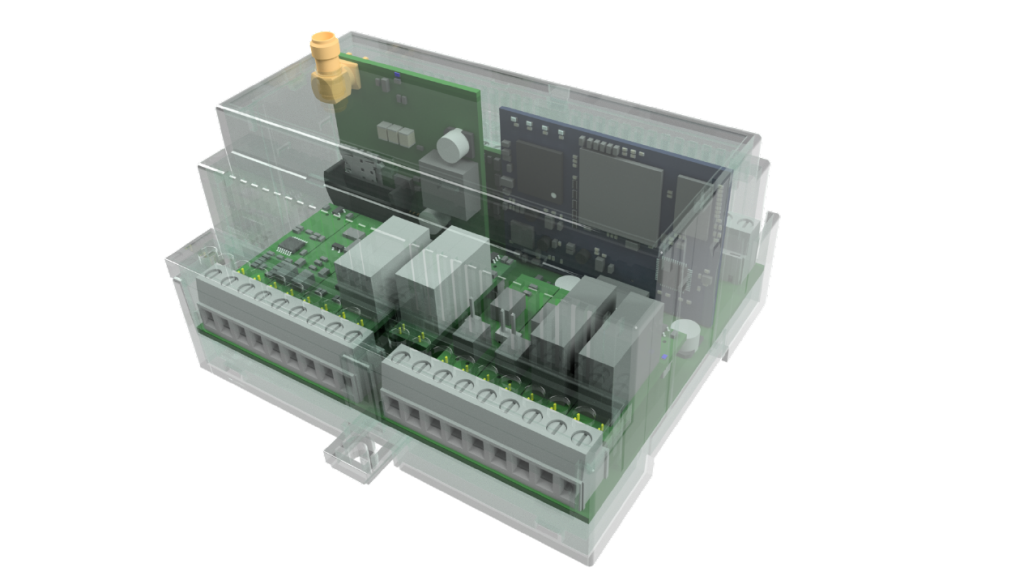 4
Results
Amibit improved energy efficiency and made considerable energy consumption savings
AMIBIT Energy Information System successfully solved key problems in the field of energy efficiency in a SIMPLE, FAST and PRICE-COMPETITIVE way..
Amibit's solution enabled:
Up-to-date and automated monitoring / reporting of energy consumption and costs by individual energy / period of time.
Targeted energy consumption monitoring and financial planning (cusum).
Automated exports for the needs of reports on investment projects.
Monitoring the operation of the energy system, which alerts both management and maintenance of individual system anomalies (leaking water, switching off the heating oven, etc.).
Alarming in case of irregularities.
Compliance with national regulation after introduction of the eis for public buildings bigger than 250 m2.
KEY SUCCESS
12
%
energy costs reduced
10,000
euros
reduction of costs
39
tons
less CO2 emissions