Best practises
Primary School Log-Dragomer
Achieving energy efficiency in a simple, quick and cost-competitive way.
AMIBIT's energy information system enabled Primary School Log-Dragomer to set temperatures in individual classrooms, to optimize, automate and control existing energy devices, and to report real-time energy consumption costs.
Users's segment
Educational institutions (schools, nursery schools)
Founder
The Republic of Slovenia
Year
1981
Surface
4,602.9 m2
Floors
P+1
No. of employees
approx. 60
No. of pupils
approx. 430
Services

Education
Rental of premises for educational and sports activities
1
A challenge
Primary School Log-Dragomer striving to improve energy efficiency
Primary School Log-Dragomer is proud of the ECO flag and is included in the international association of ECO schools. Therefore, they pay special attention to efficient use of energy, control and optimization of the operation of the energy system and concern for the environment. Plus, the school must comply with the Regulation on Energy Management in the Public Sector, which requires all facilities owned by the Republic of Slovenia or self-governing local communities whose usable area covers more than 250 m2, to establish an Energy Management System. With this measure, they want to address their ECO guidelines, comply with legislation and, above all, improve the user comfort of both, pupils and employees.
FACTORS
Regulation's requirements of energy management in public sector
Premises enlargement and connecting new devices
Poor hydraulic balance of radiator system
CONSEQUENCES
Uneven energy consumption by individual rooms.
Non-optimized operation of radiators; consequently certain rooms were Cold and others overheated.
Lack of energy consumption monitoring.
2
Preliminary analysis
Increasing costs due to inefficient energy use reminded of necessary infrastructure renovation.
Preliminary results of the energy infrastructure analysis have clearly shown some key issues:
A non-optimal way of temperature control in relation to rooms' occupancy has been demonstrated.
Heating the school via regulation with 3 heating circuits was not sufficient for even heating over the entire surface of the school.
Lack of control and information for better heating settings.
Characteristics of Primary School Log-Dragomelj's heating system
| Device | No. of devices | Rated power (kW) |
| --- | --- | --- |
| Buderus Logano GE515 | 1 | 350 |
| Heating circuit | 3 | / |
| No. of radiators | 160 | / |
Reasons for energy renovation
High energy costs
Energy inefficiency
Stricter national regulation in the field of energy efficiency
3
Solution
Implementation of advanced amibit technology with no additional construction works
Amibit equipped the school with advanced technology in the field of energy management in 5 phases:
Installation of amihub controllers for consumer monitoring in real time.
Hydraulic balance of the heating system.
Introduction of the amibit system for heat energy management by individual rooms.
Installation of automatic thermostatic heads with wireless communication.
Training of clients for using other eis functionalities.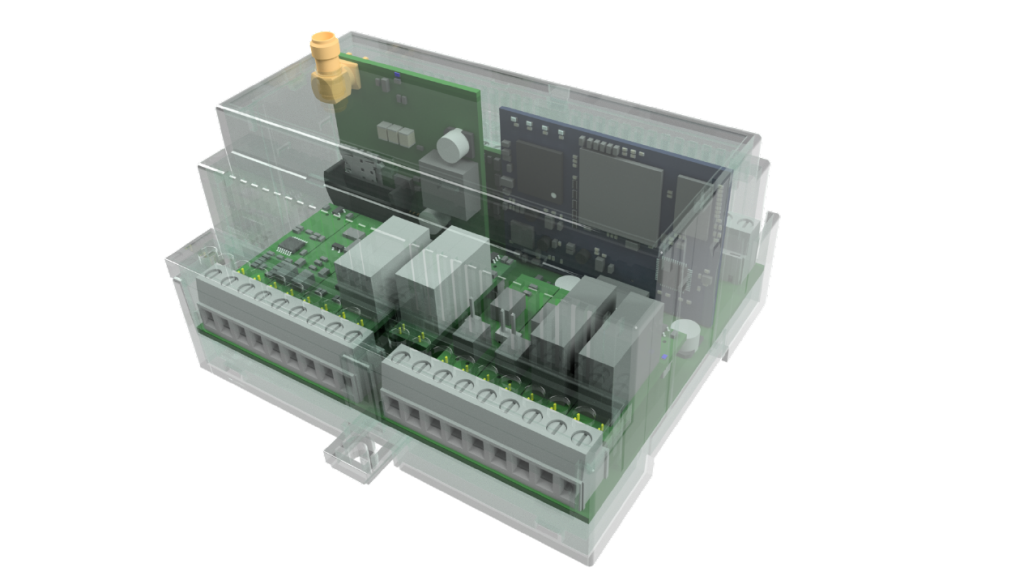 4
Results
Amibit improved energy efficiency and made considerable energy consumption savings
AMIBIT Energy Information System successfully solved key problems in the field of energy efficiency in a SIMPLE, FAST and PRICE-COMPETITIVE way.
Amibit's solution enabled:
Up-to-date and automated monitoring / reporting of energy consumption and costs by individual energy / period of time.
Targeted energy consumption monitoring and financial planning (cusum).
Automated exports for the needs of reports on investment projects
Monitoring the operation of the energy system, which alerts both management and maintenance of individual system anomalies (leaking water, switching off the heating oven, etc.).
Alarming in case of irregularities.
Compliance with national regulation after the introduction of the eis for public buildings.
Pupils 'awareness of rational energy use and the importance of environmental care.
KLJUČNI USPEHI
18
%
energy costs reduced
5,400
euros
reduction of costs
123
+ MWh
energy savings per year
25
tons
less CO2 emissions